Disclaimer: Take everything I say with a grain-of-salt and remember I write from a small-l liberal perspective.
Below the line voting is a pain in the arse. Numbering around 100 candidates in parties you've mostly never heard of is not an easy task. An optional preferential system, where you could number up to the point you see fit, would fix this but that's not on offer. Thus you have to make a choice – an easy '1' above the line or the dreaded '1 to x' below.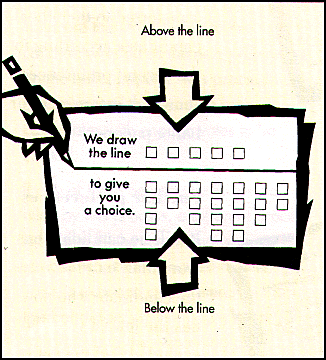 I'll be blunt: If you vote above the line, there's a higher chance your vote will get a fascist, socialist, nanny-state theocrat or racist (collectively – 'the crazies') elected.
Voting below the line allows you to employ a better strategy: vote for who you know & agree with (some hints below), then the major parties, and then everyone else.
Following this strategy, your order after the major parties is purely academic, so don't sweat on it.
However, an above the line vote will often see your vote hit the crazies before being 'exhausted' by bouncing between all the major parties. This can be an issue if your preferred party gets the numbers for (say) 2 Senators, but not a 3rd – the 'excess' votes not consumed in electing the 2nd Senator spill over to the next preference set by the party. Parties set up some pretty weird preferences deals.
Some cases in point:
So – check out the pre-arranged preference flows before you vote above the line and google the next-in-line parties. The Global Mail has an excellent preference flow visualiser (pictured below). If you don't like what you see….vote below the line.
I'd nominate the following as worth considering above a major party (links take you to the policy sections):
There are possibly a few more worth pencilling in above the Greens/ALP/Coalition, but I'll leave it here. If you follow a strategy of preferencing some of these parties, then the majors, then the rest, you'll be able to sleep easy come Sept. 7th. Bellowtheline is a useful tool if you wish to create your own pre-filled Senate ticket to take with you on polling day to make sure you don't confuse your order.
On a individual basis I'd take note of the following candidates to buck in the suggested party preference order. Drop in a comment if you wish to make a case for others. 
Higher up:
Lower down: